In Memory
Art Cabrera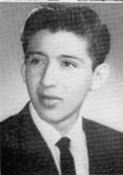 Arturo Cabrera Sr. died Wednesday, Aug. 3, 2005 at Woodland Memorial Hospital, after suffering from congestive heart failure. He was 61 years old.
Art, the son of Esther Cabrera, of El Paso, Texas, and the late Francisco Cabrera, was born in El Paso on June 19, 1944 and raised in Woodland. He graduated from Woodland High School in 1962 and enlisted in the Army in 1963. He was stationed at Fort Hamilton in New York and in Germany. He graduated from Sacramento City College with an associate of arts degree in business administration.
Art worked for the California National Primate Research Center at UC Davis for 37 years and retired as an animal resources supervisor in June 2004.
Art was a loving father and devoted husband, who enjoyed spending time with his family, including vacations to Hawaii and Disneyland. And he specially loved playing with and being around his three granddaughters, who brought laughter and light to his life.
Art was always generous with his time, helping out family members and friends without being asked. Always a joker, Art was known for his wit and fun-loving humor.
Art was an avid bowler, who passed many happy nights at Woodhaven Lanes. For 10 years, he owned Art's Pro Shop at the bowling alley, and he made many lasting friendships from that business. He loved to dance and listened to a wide variety of music. He also liked to golf and play softball and pool.
He is survived by his wife of 38 years, Rachael; his two children, Arturo Jr. and Melissa Jorgensen; Robert Jorgensen, Melissa's husband; and grandchildren Alyssa Cabrera and Amanda and Samantha Jorgensen.