In Memory
Bill Pixton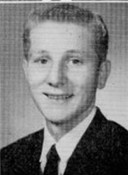 William "Bill" Pixton: May 07, 1944 – November 07, 2005
William LaVar Pixton died in Woodland Monday, Nov. 7 at age 61.
Bill Pixton was born in Murray, Utah. He had been a Yolo County resident for 50 years. He graduated from Woodland High School and served in the Army from 1965 to 1967. For 32 years, he worked at Mobil Chemical and later as a warehouseman for Walgreens for 10 years.
Survivors include Mr. Pixton's wife of 28 years, Terry Pixton; his sons, Tony and Jeff Pixton; his sisters, Illene Medico and Bonnie Johnson; and his brothers, Paul, Clyde, Floyd and Don Pixton. He was preceded in death by his parents, Marcus and Claudia Pixton; his brothers, Reed and Marvin Pixton and his brother-in-law Joseph Medico.