In Memory
Duane Turnbo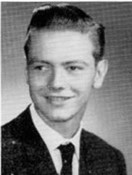 Duane passed away on Saturday, May 29, 2004 at age 59 in his home in Woodland with his wife, Diana and his sister Donna Hess at his side.
Duane and Diana had been married 39 years in February and had met while in high school. He was preceded in death by his mother Geneva Steele, father Cecil Turnbo, brothers-in-law Tom Hess and Ronald Rohrer, and nephew Jeff Burnsed.
Duane was an avid hunter and fisherman his whole life and treasured his time with his hunting buddies. Many tall tales were told around the campfire. Duane was currently employed at Don Beeman Farms and he felt that those he worked with were an extension of his family. Over the yeas he belonged to the Woodland Jaycees, did volunteer work with little league and Babe Ruth baseball.
Duane's family include: wife, Diana Turnbo; daughter Tammy Tedford, Robert, and granddaughter Stephanie; son Michael Turnbo, Jessica, granddaughter Emelia, grandson Jeremy Turnbo and his mother Andrea. Sister, Donna Hess; niece Pamela Logan; great-nephew Tanner Burnsed and Jacob Logan. Sisters-in-law Donna Rohrer, Debbie Hughes, Denice Cook, husband Dan, brother-in-law Tom Rogers, wife Billie; along with niece, Pamela Rohrer, Jennifer Greenwood, husband Eric and great niece Madison Greenwood.
Duane had many special friends close to his heart who include Kelly Houston and her parents Cathy and Michael; Kevin Brown, his brother Zachery, and their parents Don and Sherry. He will be sorely missed by all.