In Memory
Linda Heidrick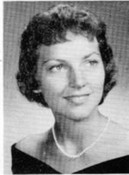 Linda enjoyed a country life with her parents, siblings and many friends.
She often spoke about her work as an RN at Sutter Memorial Hospital as a highlight of her life.

In their nearly 45 years of marriage, Linda and Fred raised four children, travelled extensively, enjoyed many seasons of King's basketball, spoiled 11 grandchildren, laughed often and built their dream house together.

Linda's most memorable traits were her irreverent sense of humor, a laugh that carried across the room and her love for her family and friends. Linda's greatest pride was in her children and grandchildren. Each had a special place in her heart.
She was involved in the Thomas Jefferson Elementary PTA and was a raucous cheerleader at sporting events and other activities in which her children and grandchildren participated. Linda expressed her creativity through many formats including needlework, stained glass and ceramics, and enjoyed hunting down and preserving family history. She was actively engaged in docent and archival work for the Sacramento History Museum and the Heidrick Ag History Center. She served a term as president of the Heidrick Ag History Center until shortly before her death. Linda was a member of the Chapter IX, P.E.O. Sisterhood.