In Memory
Ed Medina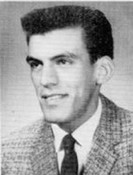 Edward Joseph Medina, Sr., 77 of Yolo, CA passed away on January 26, 2021 after a brief illness due to Covid-19. Edward was born December 13, 1943 to Trinidad and Helen E Medina in Woodland, CA. After graduating from Woodland High School, he joined the United States Army where he was a heavy machinery mechanic. After returning from the military Edward married Shirley Ann Feliz of Colusa, CA, and they had three children, Teresa Ann, Edward JR, and Ann Marie. Edward worked for Pepsi Cola Woodland, and retired after 26 years with the company. He then went on to work for Cache Creek Casino until his final retirement.
Edward was a force of nature, determined to provide for his family, and give them the life he felt they deserved. His family meant more to him than anything else in the world, something he often mentioned. He was unendingly proud of all his children and grandchildren, and always tried his best to support them.
Edward also enjoyed sports and was a diehard LA fan for baseball, football, and basketball. He enjoyed the outdoors, and was often found outside working in his yard and garden. He enjoyed fishing at the river, and barbequing with family and friends, and as he would say, "Enjoying a cold one!" Anyone who knew Edward, knew that he was funny, and a loving father, grandfather, brother, uncle, and friend. He had nicknames for everyone he met, and his nickname was Jerry (Lewis), given to him by early childhood friends for his sense of humor.
Edward was predeceased by his father, Trinidad Medina; his mother, Helen E Medina; brother, Trinidad E (Tony) Medina; brother-in-law, Larry Cruz; nephew, Michael R Sha, and grandson, Brett Alexander Reynolds. He is survived by his true love, Clara Medina; sister, Lydia Cruz (Larry); sister, Mary Houpt (Leonard); stepdaughter, Lydia Lindsey, daughter, Teresa Martinez (Mike Hill); son, Edward (Sonny) J Medina Jr.; daughter, Ann M Reynolds (Corky Barrows); grandchildren, Nina Coyle (Arron), Bryant Reynolds, Blake Reynolds (Mercedes), Danielle Medina, Nicholas Medina, Alexandria Holten (Tim), Matt Nunez, Meagan Barber (Tye), Morgun Barrows, Savanah Hill; great-grandchildren, Evan Bettencourt, Isabella Vazquez Medina, Angelo Barber, and Boston A Reynolds; as well as nieces, nephews, and extended family. There will be a funeral service on September 24, 2021 at 1:30 p.m. at The Sacramento Valley National Cemetery, 5810 Midway Road, Dixon, CA 95620. Masks are required. There will be a celebration of life at a later date. Any donations or memorials on behalf of Edward are to be directed to the American Legion Post 77, 523 Bush Street, Woodland, CA 95695. Notes or cards can be sent to the Medina family, PO Box 73, Yolo, CA 95697.On behalf of the family we would like to thank Dr. Elisabeth Abdin (Sutter Medical Group Woodland/Davis) for the special care she gave our father, and all the staff at Sutter Medical Group and Sutter Davis Hospital, especially his ICU care team.
.