In Memory
Sandra Owen (Dupras)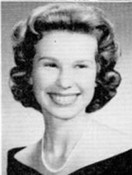 Sandra Lou Owen Dupras Jan. 8, 1945 - March 10, 2008
Sandra Lou Owen Dupras died in Roseville Monday, March 10, 2008 at age 63.
She was born in Sacramento Jan. 8, 1945 and lived her adult years in Roseville.
She graduated from Plainfield Elementary School and Woodland High School. She received her teaching credential from UC Davis and taught German and art at Oakmont High School for 39 years retiring in 2007.
Sandra was a talented artist and an animal lover, rescuing many cats and fostering them until she could place them in a good home.
She is survived by her mother, Evelyn Myrle Plocher, sisters, Kristina Martin and husband Guy, Judith Hardenbergh and husband Charles, nephews, John Bechthold and Tod Stetson, nieces, Hannah Poot and Carrie Cook.