In Memory
Bob Berg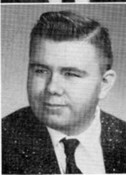 Robert Christian Berg, 63, died Friday, Feb. 15, 2008, at Sutter Hospital in Roseville.
Born on Dec. 28, 1944, in Woodland to Chris and Mildred (Rietzke) Berg, Robert was a 1962 graduate of Woodland High School.
For the past 40 years he was employed within agriculture and worked for Barrios Farms, and Yolo Blacksmith. Mr. Berg was a member of the Woodland Eagles and a volunteer fireman for the city of Woodland until 1982.
He is survived by sisters, Patty Duncan and husband Gerald, and Susan Yates and husband Casey; brothers, Ron Berg and wife Joanne, Warren Berg and wife Linda, and Chris Berg of Vista; aunt, Barbara Rietzke of Woodland, as well nieces and nephews.