In Memory
Ken Leathers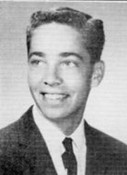 Kenneth Lee Leathers, Ph.D: March 17, 1944 - March 10, 2009
Dr. Kenneth Lee Leathers, recently of Folsom, passed away on Tuesday, March 10, 2009, after a long illness.
Born on St. Patrick's Day, March 17, 1944, Dr. Leathers spent his early years in Robbins, near the Sutter Basin where his family farmed. He was raised in Woodland, and graduated from Woodland High School in 1962. Dr. Leathers received his Bachelor of Arts degree from University of California, Polytechnic in 1966, and his Master of Arts degree from Arizona State University.
After a tour of duty as a lieutenant with the 18th Surgical (Mobile Army) Hospital in Vietnam from 1969-1971, he returned to Fort Collins, Colo., to earn his doctorate in resource economics at the age of 30.
As a consulting economist and adviser in natural resources policy and farm management, Dr. Leathers worked for three years in Lesotho, Africa, and 25 years in New Zealand. He retired from his role as a consultant with the New Zealand Defense Force in 2004.
While being treated in California for his illness, Dr. Leathers turned to his passion, developing a family trust to preserve family artistic productions for future generations. His other passions included fly fishing, pheasant hunting and writing.
Dr. Leathers is survived by his wife, Roxanna (Mischke) Leathers; two daughters, Calista and Amanda; a son, Matthew; brothers, Bob Leathers, David Leathers, and Paul Duncan; and a sister, Teri Lynott.