In Memory
Warren Meyer (Teacher)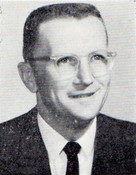 Oct. 9, 1923 - April 8, 2016

Warren F. Meyer, Jr., age 92, longtime resident of Woodland. (Coach Meyer to many), passed away at his home Friday night, April 8, surrounded by his family. Warren was born on Oct. 9,1923, in Chicago, IL, the son of Warren F. and Grace Meyer. He is survived by his wife of 70 years, Shirley; three children, Susan, Warren III (and wife, LeAnn), and Mark; grandchildren, David Nelson (and wife, Christine), Lisa and Adam Cederblom, and Katie and Chris Meyer; and great-grandchildren, Natalie and Emma Nelson. He was preceded in death by his parents; brother, Charles; daughter, Nancy Meyer Cederblom, and grandson, Darryl Nelson.

Warren served in the US Navy from Feb. 1943 until March 1946, and was a graduate of Elmhurst College and UC Berkeley. He had a long and fulfilling career teaching and coaching at Woodland High School from 1951-1988 and was a pillar in the Woodland community for 65 years.

Warren was a past commander and Life Member of the Yolo Post #77 of the American Legion, a 35 year member of the Woodland Elks Lodge #1299 where he conducted the community Elks National Free Throw Contest with the help of many other volunteers. He was a Life Member of the National Education Association, a member of the California Retired Teachers Association since 1988, he was an active participant and President of the Woodland Senior Center, and served 18 years on the Woodland Parks and Recreation Committee, 11 years with Jack Slaven and seven years under John Suhr. Warren served 14 years as Ombudsman for the Woodland Skilled Nursing Facility and Laura's Elder and North Star Residential Care Facilities. He was a member of the Northern California Officials Association for over 25 years, where he officiated basketball, volleyball, and softball games for local high school events. He also served on numerous committees helping to pass bonds building the Chuck Brooks swimming pool, the West Street Fire Station, Lincoln Street Police Station, and the Woodland Senior Center. He was the past President of the Woodland High School Teachers Association, past President of the Yolo Division #83 of the California Retired Teachers Association, past President of the Woodland Community Care Car, past President of the Woodland Softball Association, Treasurer of the Woodland High School PTA for 11 years, and Treasurer of the OFC for 18 years. Warren was inducted into the Woodland Sports Hall of Fame in 2001 and received one of the Woodland City Council 2004 Community Service Awards.

Some of Warren's most memorable accomplishments were the coaching of the Woodland High School sophomore football team to a metro league championship in both 1957 and 1958, and then to an undefeated season in 1963 with Fred Stone. He also coached the 1984-85 girls one A division basketball team to a 30-3 season culminating into a Northern California runner-up position. He was also very proud of a number of his accounting students becoming Certified Public Accountants.

A lifelong Chicago Cubs fan, Warren had a very kind heart and quick wit and will be dearly missed by all who knew and loved him.