In Memory
Fred Stone (Teacher)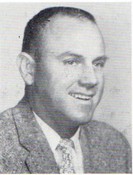 Fred Stone, 93, passed away in the loving presence of his three children on November 6, 2021 in Woodland, CA. Fred would say he was lucky in life, and he enjoyed it to the fullest. In his last days, he was often heard to say, "It's been a great ride!" Fred loved boating and waterskiing and teaching his kids (and all of their friends) to ski on the Sacramento River, he snowskied into his late 60's, and he was always handy with his tools whenever there was a construction project or a fix-it situation.
The first in his family to graduate from college and to travel abroad, he was proud to take his family to Europe in 1974, and even more proud that all three of his kids got a four-year degree. He was a devoted husband, a loving father, grandad and great-grandad, and truly a one-of-a-kind guy with a funny quip or silly saying for every occasion.
Born August 14, 1928 in Gerber, CA, to Sam and Rachel (Hazen) Stone. A graduate of Red Bluff High School, he served in the US Army 11th Airborne Division in Japan, married Theda Hornbeck in 1949, graduated Taft Junior College and Fresno State University. He taught drafting and coached football at Woodland High School for 21 years, and taught at Sacramento City College for an additional 17 years. He played football in high school, in the Army and at Taft Jr College. In addition to teaching, he "moonlighted" as a draftsman for 35 years, drawing plans for grain storage builders.
He is survived by his children, Guy Fred Stone (Carol), Marjie Giebel (Phil) and Susan Stone (Terri); grandchildren, Matt and Evan Giebel, Amanda, Emily and Patrick Wallace; and great-grandchildren, Natalia, Theda, Sawyer, Emma, Joaquin and Evie. Fred is recently preceded in death by Theda (Hornbeck) Stone, his wife of 72 years. He is also preceded in death by brothers, Sam, Henry, Jim, Bob and Bill; and sisters, Anne, Sally, June, Betty, Emily and Nancy.